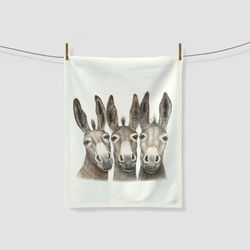 Buy 2 kitchen towels get 10 % use code  Towel10  at check out
Product description
Our kitchen towels are available with several of Charlotte's animal motifs and are a beautiful accessory in the kitchen or dining room. It is machine washable and super absorbent. The towel is woven in soft organic cotton twill and will last for a long time. Motif three donkeys Amigos.

Materials & Care
• Size: 45 x 65 cm
• Material: Cotton twill
• Care instructions: Wash the towel at 40 ° C , hang dry, iron on high setting.

More information
We want to contribute to a healthier planet. That is why a large selection of our products are produced and manufactured with materials that are eco-labeled. The fabric in the towels is woven especially for us in a small factory in India. The motifs are printed with eco-labeled inks and the factory has the following certifications:

OEKO TEX (Sustainable Textile Production)
GOTS (Global Organic Textile Standards)
OCS (Organic Content Standard)
GRS (Global Recycled Standard)
SEDEX AUDIT Every year