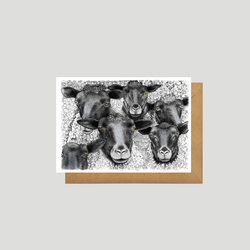 Looking at you - Postcard
Product description
Send this postcard to your loved ones, or use it as a greeting card together with a gift or flowers. The card has a white back and comes with a brown envelop.
You can also frame the card and have it as a small painting on the wall.
Motif: Looking at you the sheep
Material & Size
Size: 12 x 17 cm

Paper; 300 g Invercote G

Nordic Eco-labelled

One Kraft envelope accompany each card
More information
We want to contribute to a healthier environment. Therefore, a large part of our range is produced and manufactured from natural materials.  All our cards are printed in Sweden and are Nordic Ecolabelled. We work closely with a small printing company that understands how Charlotte's colors and thin lines are best reproduced.

The paper, Invercote G is a versatile homogeneous board (SBB) with a silky semi matte coated front and matte backside to facilitate writing. The paper has a unique structure in three layers of long-fiber bleached sulphate pulp which gives Invercote superior strength properties. A Kraft Fleck recycled envelope is included with each card.
My favorite motif
I love your sheep, thanks Charlotte!