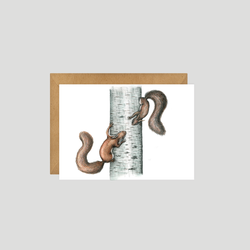 Product description
Send a greeting to your loved ones, give together with a gift or flowers, or decorate your home with lovely animal motifs! Each postcard comes with an envelope.
Material & Size
Size: 12 x 17 cm

Paper; 300 g Invercote G

Nordic Eco-labelled

One Kraft envelope accompany each card
More information
We want to contribute to a healthier environment. Therefore, a large part of our range is produced and manufactured from natural materials.  All our cards are printed in Sweden and are Nordic Ecolabelled. We work closely with a small printing company that understands how Charlotte's colors and thin lines are best reproduced.

The paper, Invercote G is a versatile homogeneous board (SBB) with a silky semi matte coated front and matte backside to facilitate writing. The paper has a unique structure in three layers of long-fiber bleached sulphate pulp which gives Invercote superior strength properties. A Kraft Fleck recycled envelope is included with each card.
Carte adorable!
J'adore Boris & Doris, très jolie! La commande est arrivée en trois jours, bravo l'équipe Charlotte Nicolin !❤️
Finally arrived and in good condition
This review was initially requested when I had not yet received the item or any news of it. However, it has now finally arrived. I have decided to chalk up the timing and lack of updates to the pandemic and just rate the card itself, which is lovely.