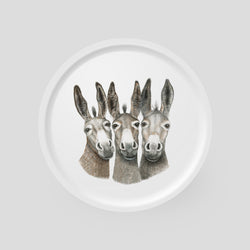 Product description
Round serving tray with three donkeys by Swedish artist Charlotte Nicolin. Use it for serving, table protection, heat isolation and much more. Our trays are handcrafted in European beechwood with a laminated surface. 
Dimensions
Ø 36 cm round
Information

• Heat and dishwasher safe
• Food contact approved
Eco-labeling

Our trays are FSC® certified Mix C126905, made in Europe with wood from responsible sources.

Amigos Tray
I absolutely adore the Amigos Tray - we have miniature donkeys and my friends love them. I attempted to order a few Christmas trays for them but SOLD OUT, unfortunately.